Platform hire
Our rental stock includes numerous working platforms, which means we are suitably equipped for projects in the construction, industrial, craft or service sectors. Our own vehicle fleet delivers the working platforms. The fleet is specially designed for the delivery of elevated working platforms.
As a customer you will benefit from fair transport conditions as well as a very wide selection. We can deliver the desired equipment to your site at an agreed time. Our specially trained experts will then provide detailed instructions on operation of the hire equipment at the location.
We can also provide delivery at short notice.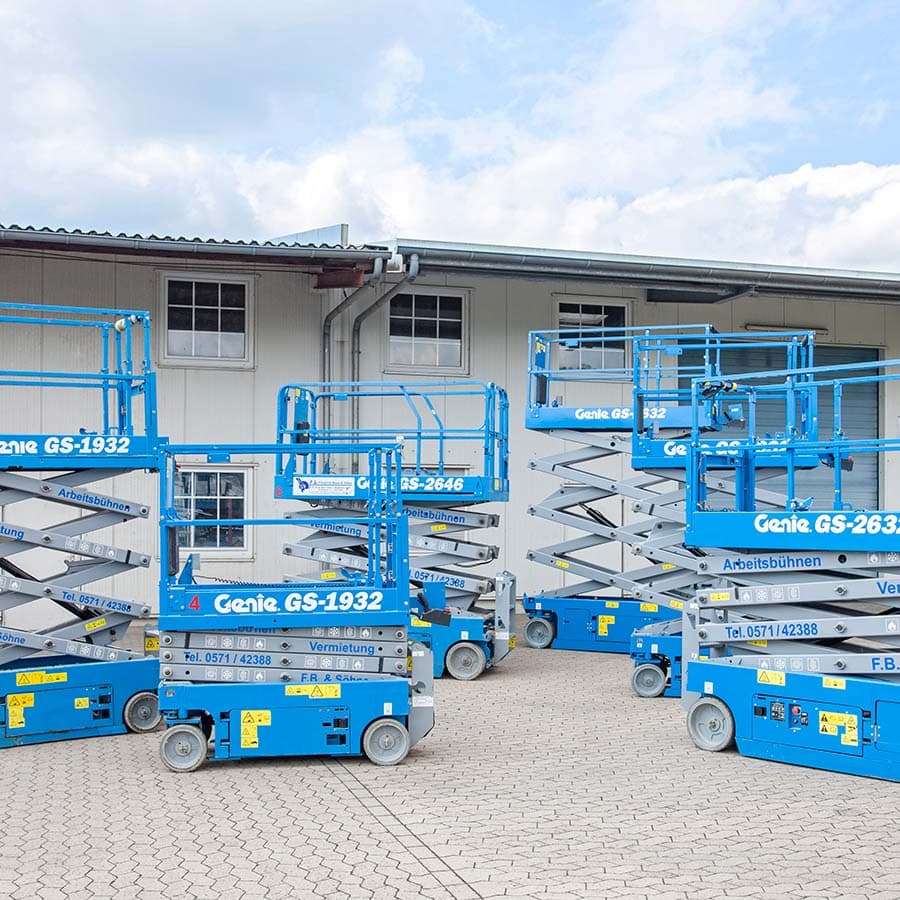 Model GS-1932

Maximum working height
7,06m
Maximum platform height
5,80m
Height, fully stowed
2,10m
Height, rails folded
1,75m
External width
0,81m
External length, stowed
1,83m
Length + platform extension
2,72m
Platform dimensions (L x W)
1,60m x 0,75m
Maximum load bearing capacity
227kg
Ground clearance
6,1cm
Total weight
1483kg
Power supply
Electric
Model GS-2632

Maximum working height
9,80m
Maximum platform height
7,90m
Height, fully stowed
2,26m
Height, rails folded
1,91m
External width
0,81m
External length, stowed
2,44m
Length + platform extension
3,33m
Platform dimensions (L x W)
2,26m x 0,81m
Maximum load bearing capacity
227kg
Ground clearance
6,1cm
Total weight
1985kg
Power supply
Electric
Model GS-2642

Maximum working height
9,80m
Maximum platform height
7,90m
Height, fully stowed
2,26m
Height, rails folded
1,68m
External width
1,17m
External length, stowed
2,44m
Length + platform extension
3,33m
Platform dimensions (L x W)
2,24m x 1,16m
Maximum load bearing capacity
454kg
Ground clearance
10,2cm
Total weight
2468kg
Power supply
Electric
Model SL-26 N

Maximum working height
9,75m
Maximum platform height
7,92m
Height, fully stowed
2,45m
Height, rails folded
–
External width
1,68m
External length, stowed
3,78m
Length + platform extension
4,57m
Platform dimensions (L x W)
3,67m x 1,52m
Maximum load bearing capacity
590kg
Ground clearance
20,0cm
Total weight
2100kg
Power supply
GAS or petrol
Still LP gas forklift truck Type RC 40-20 T

Height, mast lowered
2,31m
Free Lift H2
1,75m
Rated Lift
5,22m
Width
1,12m
Maximum height
5,81m
Nominal rated capacity
2,000kg
Nominal rated capacity up to
4,77m
Load bearing capacity on maximum lift
1,690kg
Length of fork arms
1,20m
Ground clearance without load
12,7cm
Tyres
Neutral White
Unladen weight
3099Kg
Residual load capacity with Oktopus attached at the front
373Kg
Power
Gas
Year of manufacture
03.2013
Vacuum lifter Oktopus GI-B400

Load bearing capacity 8 round suction cups
250kg
Load bearing capacity 12 round suction cups
400kg
Weight of device
600kg
Width
0,91m
Length
2,30m
Nominal rated capacity
2,000kg
Height
1,36m
Year of manufacture
05.2012